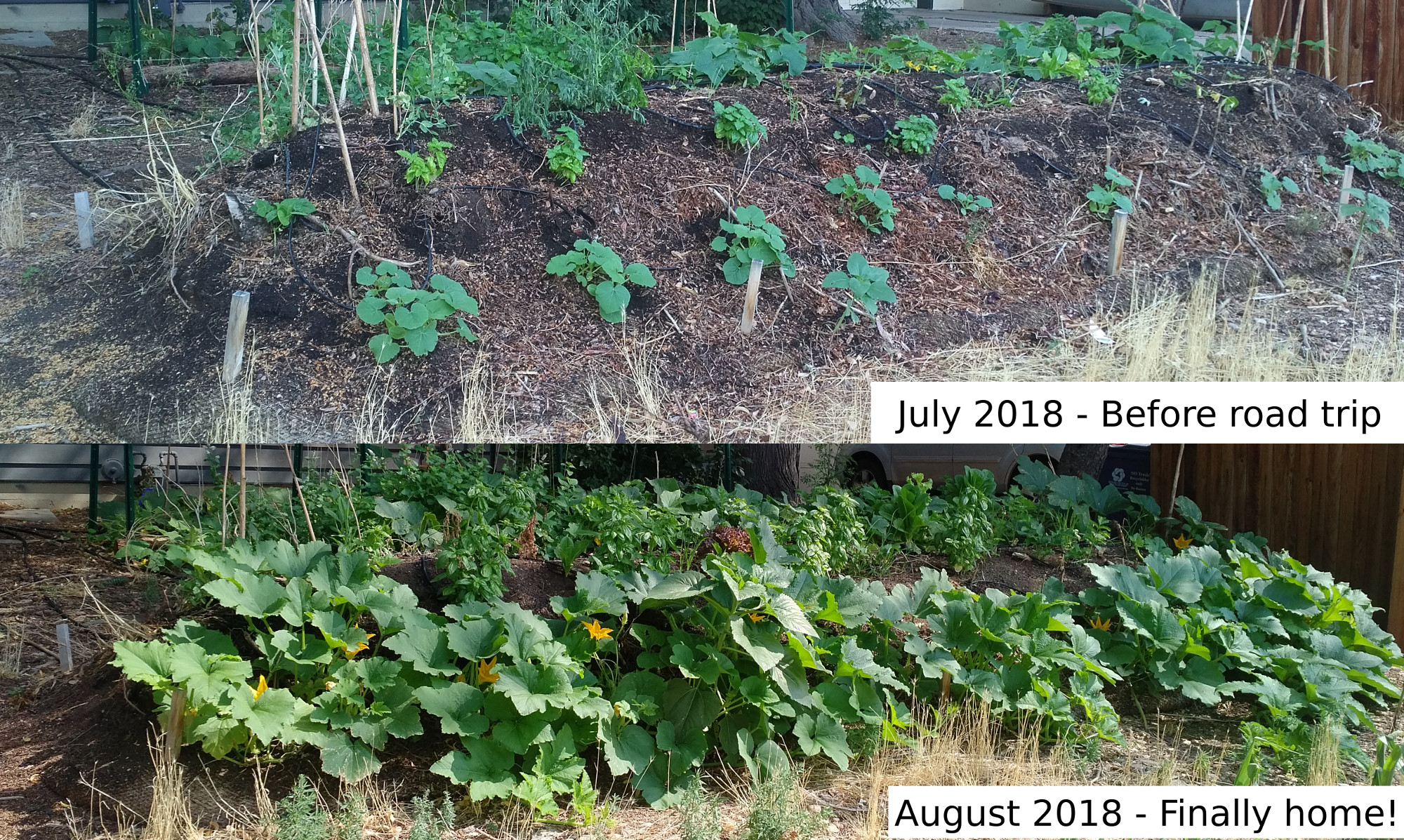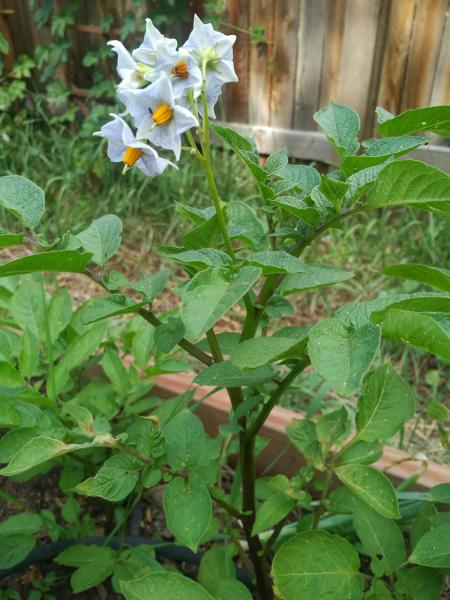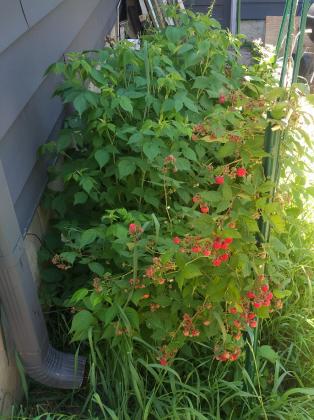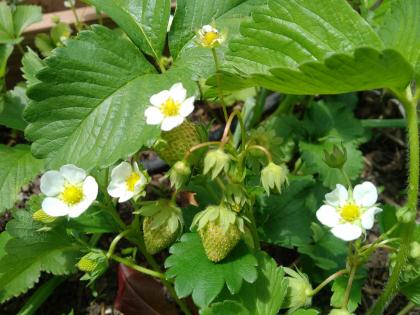 Planted so far in 2017
12 cucumber plants (will be thinned down to the 6 strongest plants once they reach 4 inches tall)
UPDATE: THEY ALL GOT EATEN BY SQUIRRELS >:|
18 potatoes
60 carrots
a bunch of strawberry plants (survivors from last year)
40 garlics
30 beets
Harvested so far in 2017
1.5 kilograms of fruits and veggies (over a dozen meals)
This year's goal is 37 kilograms, roughly 5% of the average American's annual food consumption
See the Harvest page for more details
2017 todo
Plant grapes

Plant blackberry

Get more dirt for the hugels

Plant hugel stuff

Plant blueberries

Get more basil

Plant peppers after last frost date

Figure out irrigation

Get food safe 5 gallon buckets
Saved seeds that didn't germinate in early testing :(
Saved seeds that are growing!
Green beans
Basil
Sunflower
Cilantro
Snow Peas
Cucumber
Dirt notes
1 cubic yard = 27 cubic feet
5 gallon bucket = ~0.5 cubic feet
Need an additional 4-6 inches of soil on the small hugel, and 6-8 inches on the large hugel.
So that's 2 yards for the small hugel, 3 yards for the large hugel, and 1 yard extra for containers?
Food safe connectors:
https://www.eldonjames.com/?product=c0-4hdpe-b
,
https://www.eldonjames.com/?product=t0-8hdpe-b
Tube questions!
What's the PSI rating? (Can probably dig deeper into the tech documents on their website)
Can I buy directly from the factory?
2017 Gallery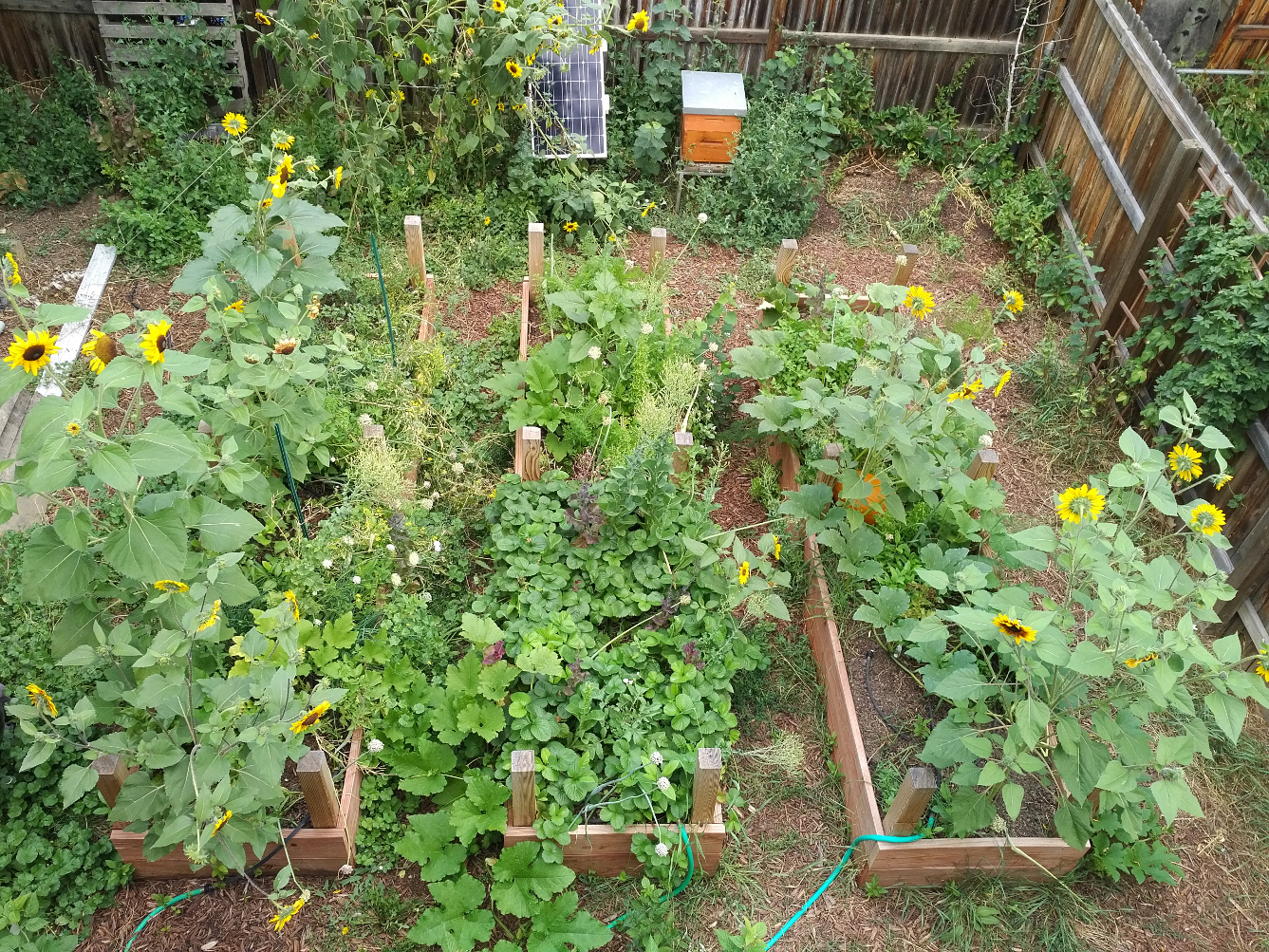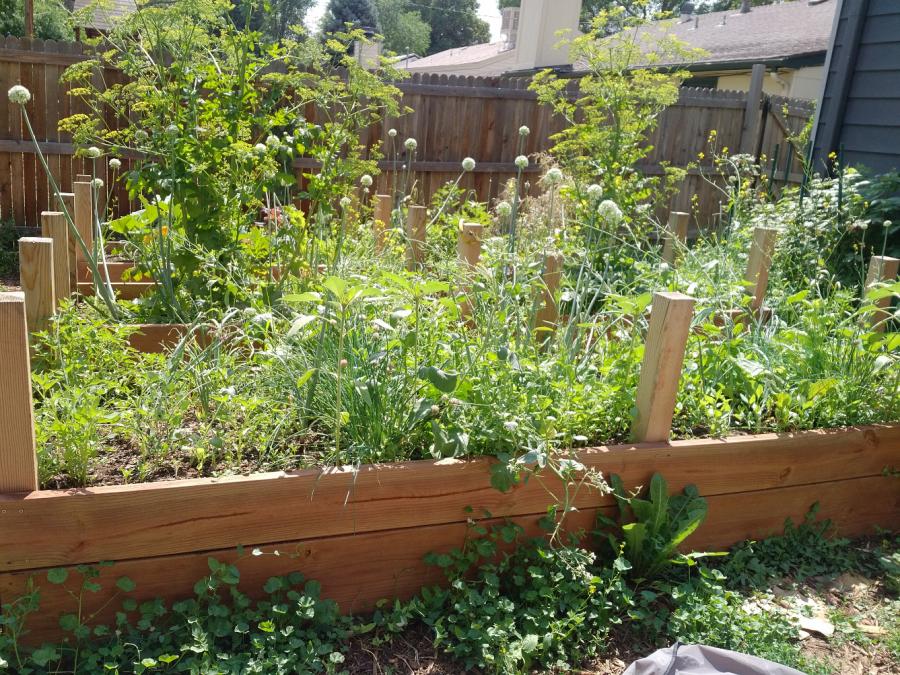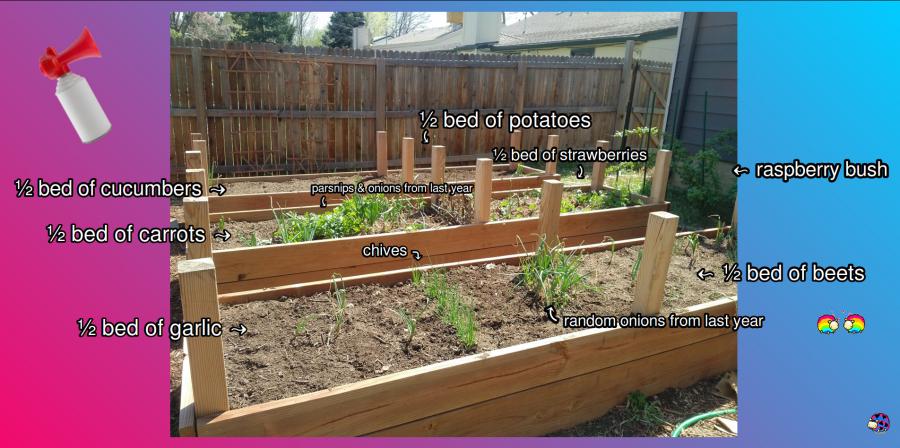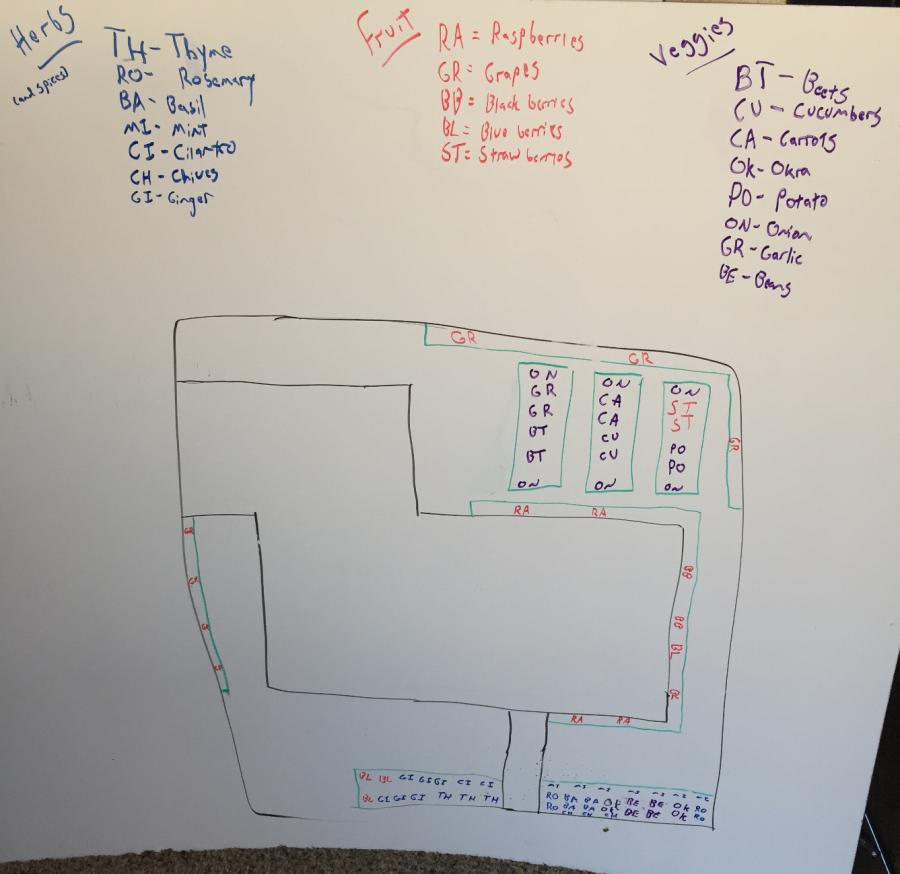 Our soil has been tested! Everything is normal. A few things could be adjusted, but overall there were no contaminants or major pH issues detected.
The raised bed soil came from a local company called
PERMAGREEN ORGANICS
, but we haven't tested that.
Check out the 2016 harvest page! :D
Planting Area Available
1 Full sun hugel
1 Partial sun hugel
3 Partial sun raised beds
Misc planning
So, what do I even eat? What do I enjoy eating?
Roots
Carrots
Beets
Potatoes
Onions
Garlic
A lot of roots!
Fruits
Strawberries
Raspberries
Blueberries
Grapes
Roots n fruits.
Wheat too I guess if you count bread.
Veggies
Beans
Peas
Sunflowers
Cucumbers
Herbs
Thyme
Rosemary
Mint
Basil
Cilantro
IMPORTANT PLANTS, MUST HAVE
Sunflowers
Black Raspberries
Peanuts
Beets
Planning for Spring 2016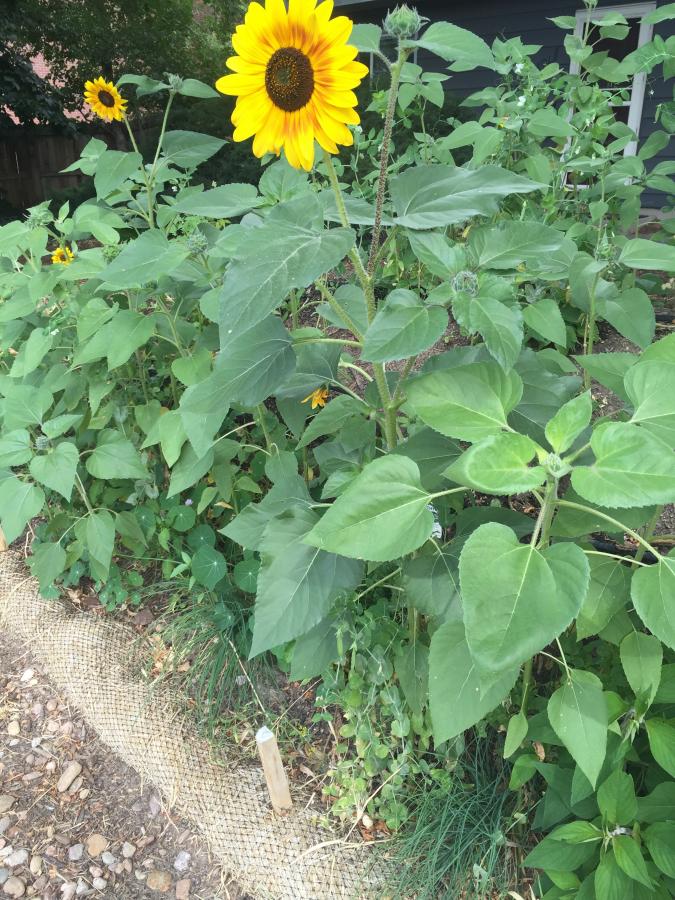 Mushrooms
King Stropharia
Oyster
Vegetables
Potatoes
Tomatoes
Carrots
Onions
Garlic
Broccoli
Squash
Beets
Green Beans?
Peppers?
Spinach
Horse Radish
Herbs
Rosemary
Thyme
Basil
Cilantro
Other
Sunflowers
Raspberries
Hops
Ginger
Grapes?
Ideas / Planning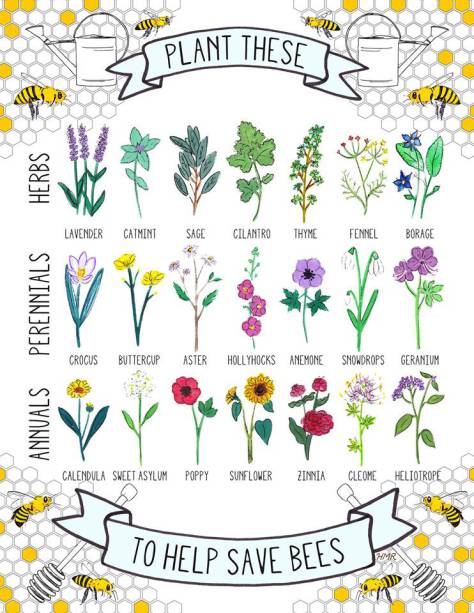 2015 Infrastructure
Bees
Solar panel
Compost pile
2015 Plants
Sunflowers
Thyme
Rosemary
Basil
Raspberries